IFS Virtual Keynote Series with Jutta Heckhausen and Kaspar Burger
-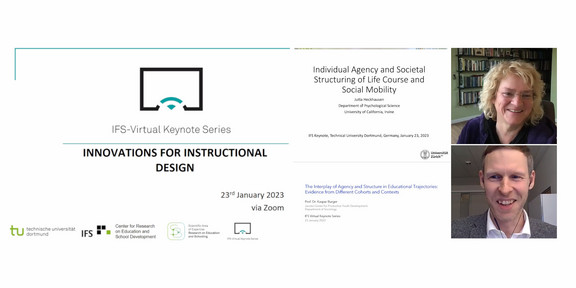 As part of the IFS Virtual Keynote Series on "Agency and Structures in Education and Development across the Lifespan", two internationally renowned researchers delivered instructive keynotes. In the first keynote, Professor Jutta Heckhausen, PhD (UC Irvine) addressed individual agency and the social structuring of life courses and social mobility in her presentation on "Individual Agency and Societal Structuring of Life Course and Social Mobility". To do so, she analyzed, among other things, specific motivational and regulatory challenges that require certain skills such as goal setting, commitment and adaptation, and learning from experience. According to the professor, this opens up a broad field for collaboration between developmental, motivational and educational psychologists and sociologists working on life courses.
In his lecture on "The Interplay of Agency and Structure in Educational Trajectories: Evidence from different Cohorts and Contexts", Professor Dr. Kaspar Burger (University of Zurich) dealt with the influence and interplay of "agency" and "structure". He emphasized that there is a recurring debate on this in philosophy, sociology, psychology, political science, anthropology, and environmental science. In his presentation, he was able to present very different insights for the complex interplay between Agency and Structure from his research, which also suggest changes regarding the interrelationships over the course of history.
The two keynotes were followed by a lively discussion on the influence and interplay of structure and agency; while psychologists gave more weight to individual "agency", for sociologists "structure" was more crucial. However, the presentations and related discussions suggested that this depends on the specific environmental conditions. Many thanks to all for participating!