Project duration 01.09.2023 – 29.06.2025
Reading with Children for Parents – Change in the Ruhr Area for Strong Education
The project Reading with Children for Parents in the Ruhr Area aims to inform parents about important family reading practices and reading techniques that can improve their children's reading skills in a scientifically sound way. In view of the reading difficulties of many children in this diverse region, practical answers to central questions of reading promotion are to be offered and effective dissemination researched. The focus will be on what challenges children typically face in reading, promoting reading fluency and increasing reading comprehension in the family. Short videos with this content will be made available on a user-friendly website in different languages. The project uses postcards and social media to promote the website in three phases. Usage is regularly evaluated to guide next steps and improve the materials. The aim is to help parents and children in the Ruhr area to enjoy reading together, to overcome barriers and thereby increase educational opportunities.
Alfried Krupp von Bohlen und Halbach-Stiftung
The project Reading with Children for Parents – Change in the Ruhr for Strong Education aims to improve the reading skills of children in the diverse Ruhr region by providing parents with scientifically based support strategies. The project focuses on providing practical answers to three key questions in reading promotion:

(1) How do parents identify what problem their child has?
(2) How can reading fluency be promoted in the family?
(3) How can reading comprehension be supported in the family?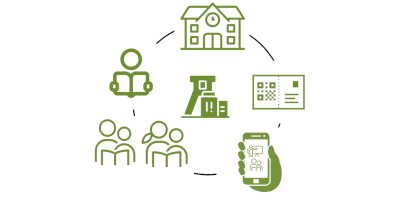 In the context of declining reading skills among elementary school children, especially in the Ruhr region, the project aims to empower parents to better support their children in learning to read. The project uses short videos in different languages on a user-friendly website to teach parents simple and effective reading techniques. Three phases of dissemination are planned using postcards and social media. Use of the materials will be evaluated regularly to make adjustments.
The project addresses the challenge that many families have difficulty supporting their children in reading, especially those from socially disadvantaged backgrounds. It emphasizes the importance of self-reading and provides clear techniques to promote reading fluency and comprehension.

Research Questions
(1) Under what conditions do parents use the information offered by the project?
(2) Which media formats and communication strategies achieve the greatest reach?
(3) How can the parents who use the information offer be characterized?
Selected or expected results and outlook
The project contributes to a better understanding of the conditions of use of the information offered by family reading practices. The research could reveal which media formats (e.g., videos, websites) and communication strategies (e.g., postcards, social media) achieve the greatest reach and resonance among parents in the Ruhr region. This could help target future projects to these effective communication channels.